Character Name: Nurbs / Polygons
Character Class: Mage / Paladin
Days Played: Nurbs - 71 / Polygons - 13
Days Played at 80: Nurbs - 22 / Polygons - 4
Alt(s): No significant alts at this time; considering rogue & priest to level up but I am willing to level any class that the gulid needs.
--- General Information ---
1. Tell us a little about yourself: How old are you? Where are you from?
24 years old & I'm am from Springdale, Arkansas. I just graduated from college with a Bachelor of Science in Computer Animation and in the
process of applying to gaming studios as an Environment Artist. I have been playing MMOs since 2003 when I started with Final Fantasy XI. I
clocked in 330 days of gameplay in that game before I quit due to starting college.
2. What guilds (if any) have you been in? If so, why did you leave? If you are a server transfer, why did you pick Immo/Skullcrusher?
I was in checkmate until a couple months ago and became inactive due to the combination of them being uninterested in doing Ulduar and it being
the last couple months of college and having a lot of work to do. I didn't log in for a month & they drop me for inactive (short version). That being
said; I am arraning my schedule to always be at raids and you can check with Checkmate and they will tell you I came to every raid and was usually
1st-3rd dps in fights (as my mage).
3. What is the best way to contact you?
You can contact me on Nurbs/Polygons in game or by email @cjpentz@aim.com. You will most likely find me on Polygons atm due to trying to gear him
up properly.
4. How did you hear about us?
You guys are immortality. Top Guild on the server according to Warcrafter. I want to play with the best.
--- Raiding Information ---
5. Post your armory link. Post any info not available on armory.
Nurbs-
http://www.wowarmory.com/character-sheet.xml?r=Skullcrusher&n=Nurbs
Polygons-
http://www.wowarmory.com/character-sheet.xml?r=Skullcrusher&n=Polygons
Polygons does have a holy spec... but gears are pretty much just superior epics. 2K Healing.
6. Do you have Ventrilo and/or a mic to communicate with your prospective guild members?
Yes, I have Vent, Mic and even a webcam.
7. What are your computer specs and internet connection? Can you handle max graphic settings at a reasonable framerate in a 25 man raid?
Processor: Intel | X9650 @ 3.00GHz (Quad Processor)
Memory (RAM): 8.00 GB
OS: Vista (64Bit) Ultimate
Video Cards: Dual 8800GTX SLI
Internet Connection: Cox Communications - Cable - 24MB/s Confirmed
Yes, I can handle everthing at max graphics easily.
8. Please attach some WWS records (or any similar log parses you may have) of some recent raids. Feel free to submit bad ones and identify what you did wrong and why they weren't as stellar as other ones you've submitted (Learning from mistakes and not repeating them again makes for much better raiders and shows us you can learn and adapt).
I can get records if you need them. I currently don't have any unless recount stores them somewhere I don't know about. I can easily say my Mage is able to pull 4.5k-5k DPS in a fight (depending of course). My paladin has little
experience raiding as holy so I know my numbers would not be good there, but he has tanked everything except
Maly25 & Ulduar10/25.
9. Tell us about your raiding experience. Go into any pertinent details about what you killed and what guild(s) you've killed it with. Let us know if it was pre-nerf or post-nerf. Tell us about how you made a difference and helped your past guild achieve those kills. How does your class role play into all of this?
I cleared every raid on my mage except for Ulduar10/25 and same goes for polygons except he hasn't done malygos25 as well.
My mage typically was always in top 3 if not top dps in almost all raids I participated in. Its pretty easy to play a mage at this time due to the lack of need to CC since Burning Crusade. The only thing that I really ever have to do is dps unless decursing is neccessary.
My Paladin has been tanking / off-tanking everything so far. Its also pretty simple to play once you learn the 6969 rotation and know how to pick up adds etc. pretty quick. I would say that it does have alot of utilities that come in handy at times to prevent death and death of others and thus why I have started to enjoy playing on it alot more.
10. Tell us about your class. Likes, dislikes, etc. What makes you good at your class? Tell us a little about gear, your class, situational gear, specs, and how it all relates to your flexibility in raiding. Go into high detail about your rotations/spells/abilities you use, how it maximizes your job and why.
I like both classes... tho mages are a bit squishy... paladins need aoe heals... but the classes as a whole are quite fun.
Mage~ I do have alot of pvp gear in case mage tanking is ever needed again.
Rotation: Fireball/Livingbomb/Pyroblast- usually all that's needed.... Fire Blast when I'm running and LB is up and no pyro proc.
Paladin... 6969 Rotation. (6sec-9sec)~ You always have an ability to use then. I usually pop wings at the start of a fight to secure alot of aggro early on so dps
can unload as needed.
11. What is your schedule like? What times during the week can you raid? Our raid start at 8:00pm EST and last until 12am midnight. Usually Sunday through Thursday.
I can raid every night of the week until 3AM+.
12. Please post up a link to a screenshot of your User Interface.
Nurbs-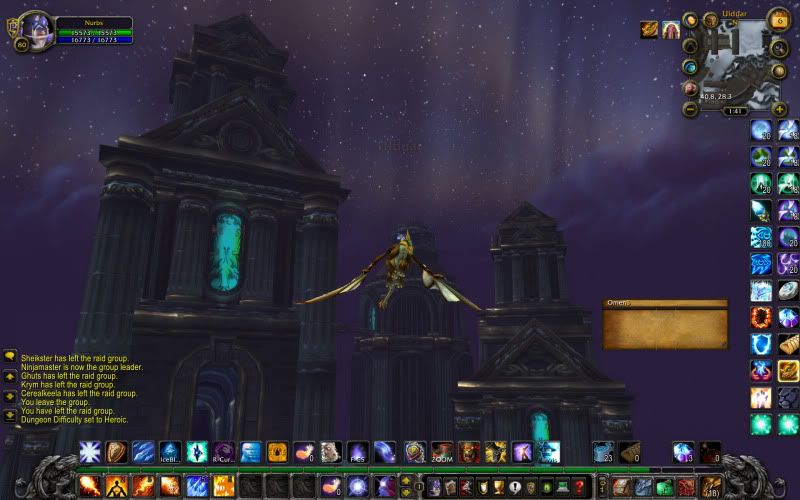 Polygons -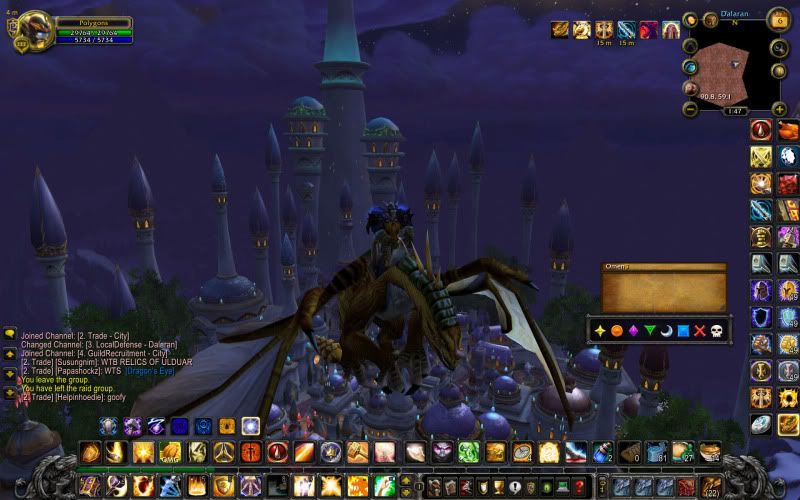 13. If your house was on fire, and you were raiding with us, what would you do?
Well... I do have a laptop with wow installed as well.
14. General Comments about yourself to us. This is your opportunity to convince us that you are the players that we want in our guild.
What can I say? I'm a hardcore gamer... even my career is creating games. I'm always interested in improving my
abilties and reaching new heights. I don't bitch and moan about a dieing; wow has a very small punishment imo for
dieing compared to other mmo's. I'm open to suggestions on ways to improve game, whether is be macros or addons
or play style. I wouldn't ask to join the best guild on the server if I didn't think I could keep up with you guys.